Welcome To My Homepage
Yes, our web page is lame
I'm sorry, but I don't have time to make this look nice right now. I'm just trying to update this page to give Judy a place to have a chat.
Biggest Loser Chat
OK, so, here's the deal on the chat. Click the button below and a new window should pop up for the chat. You will probably have to make sure that pop-ups are allowed, or at least that you allow them from this site. Good luck.
The first Biggest Loser Chat is scheduled for tonight at 10:00 p.m. Mountain Daylight Time.
If you have trouble getting into the chat, please e-mail or IM Judy. See you tonight -- losers!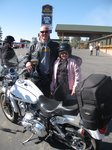 These are just some pictures I thought I'd leave on here
Nothing particularly special about these pictures, they just were on the site and I thought I'd put them in these boxes in the web page outline. Have a great day.